Assign boats and instructors, add and remove capacity (boats) as demand changes. Avoid mismatches, scheduling conflicts, and assignment confusion.



Automatically send timely student confirmations and personalized materials (electronic or paper).



Print instructor duty sheets with personalized student notes and special requests.



Handle first, second, and subsequent choices with ease.



Fill dropouts and reschedules from waiting list automatically.


Support split payment.



Support wait list by size, model, or specific boat.



Automatically enforce certification requirements and keep your clients safe.



Eliminate multiple booking. Allow quick turnaround (check-in and recharter).


Rich "data mining" support. Select by hundreds of criteria such as interests, courses taken, charters, demographics, recent value, lifetime value for promotions and research.



Marketing "tickler" system.



Secure credit card management and easy integration to commercial
accounting systems.



Support for membership, sponsored membership, monthly
and yearly dues.



Rich support for web-based community, including prospecting,
on-line reservations, messaging, charter and course history, and more.




Easy-to-use color codes indicate attention items such as missing or unconfirmed assignments, overcrowding over capacity.



Support for corporate and special events, repairs.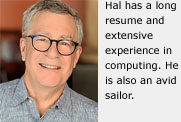 Hal Franklin began writing computer operating systems for Honeywell in the 1970's. He has written commercial systems for Burlington Coat Factory, Sears Roebuck, American Airlines, QVC, Carlson Companies, DirectTech, Telesystemes France, and many others. He also created golf training systems for SwingLab and the PGA, and designed medical and scientific systems for Harvard Medical School and Dartmouth Medical School.

H M Franklin Associates has provided technical consulting worldwide to governments and private industry since 1984.




Your clients don't just take lessons and charter boats. They enlist your expertise and authority. They trust you.
But before anyone steps aboard a yacht, whether they know it or not, they depend on you to handle countless details. Efficiently, reliably, knowledgeably and flexibly. That kind of customer service is a major component of both client confidence and satisfaction -- and both show up in the bottom line.
You can inspire confidence, provide dazzling service, and make it all look easy -- with SailDesk, a powerful and complete engine for sailing academy management.


Get the most out of every resource and grow your business while maintaining its unique character.



Take more reservations with less staff, and never "drop the ball."



Enjoy the ultimate in flexible pricing -- by membership status, duration, day, provisioning, passenger count, boat, and more.



Provide access to details that make each client feel special, in every interaction, with every staff member.



Manage the "wait list" fairly and easily, for course seats and charters (and get more business!)



Keep instructors and repair staff clearly aware of their commitments.



Flexibly assign boats, students, instructors, classrooms to courses, charters, and events. Avoid conflicts and disappointments.



Design courses with multiple schedules, course materials, instructor, boat, and class requirements. Then plan an entire season of course offerings with push-button ease.